Core elements and specificities of the Living Lab topics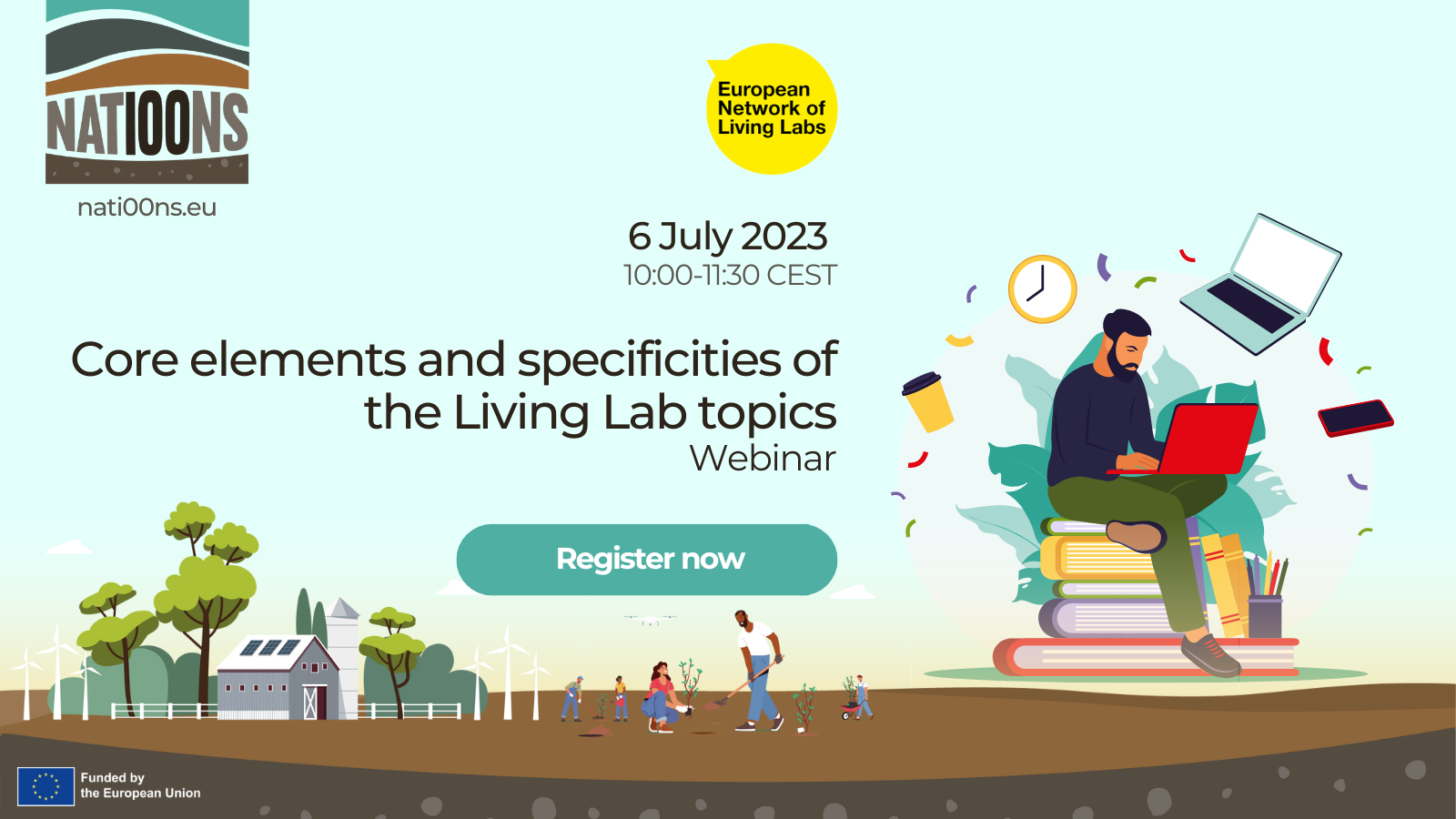 In the framework of Horizon Europe, the European Union Programme for Research and Innovation (2021-2027), the European Commission launched the Mission 'A Soil Deal for Europe', aiming to establish 100 Living Labs and Lighthouses to drive the transition to healthy soils by 2030. 
The NATI00NS project's main aim is to promote the Mission Soil Living Labs topics as part of the 2023-2024 Work Programme of Horizon Europe. NATI00Ns is organising national events, providing access to materials and information as well as stimulating discussions on the set-up of Living Labs (LLs) to address specific soil needs in different local and regional contexts. 
NATI00NS partners, the European Network of Living Labs (ENoLL) is organising three webinars to further promote the Horizon Europe topics. The webinars will contribute to raising the awareness of stakeholders on the specific concept of regional soil health Living Labs, the funding available under the Mission 'A Soil Deal for Europe' Living Lab topics as well as the application process.   
The webinars target potential and future applicants, as well as local, regional, and national stakeholders interested in setting up a soil health Living Lab. 
The webinar Core elements and Specificities of the Living Lab topics takes place on 6 July 2023 10:00 – 11:30 CEST. This last webinar will provide participants with key information on the process to apply for the Living Labs topics part of the Horizon Europe Mission 'A Soil Deal for Europe' call. Representatives of the European Commission will provide an overview of the objectives of the EU Soil Mission, its core elements, and the specificities of the Living Labs topics. This webinar will include a Q&A and we invite participants to share their questions in advance through the webinar registration form. *Please note that questions related to specific project applications will not be covered. If you need coaching services on your Living Lab or application ideas, we invite you to reach out to your national mentor.
Speakers
Isabelle Couture, Senior Project Manager, European Network of Living Labs
Dolinda Cavallo, Junior Project Manager, European Network of Living Labs
Paola Eulálio, AGRI.F2 Policy Officer
Maria José Amaral, REA.B2 Research Programme Manager
---
The webinar series
The Living Lab essentials – how to set up a Living Lab 
22 June 2023 10:00 – 11:30 CEST
Governance and Business Models for setting up a Living Lab  
29 June 2023 10:00 – 11:30 CEST
Core Elements and Specificities of the Living Lab topics 
6 July 2023 10:00 – 11:30 CEST
Webinar